Copper Water Bottles
Regular price

$59.99

Sale price

$49.99

Unit price

per

Regular price

$59.99

Sale price

$49.99

Unit price

per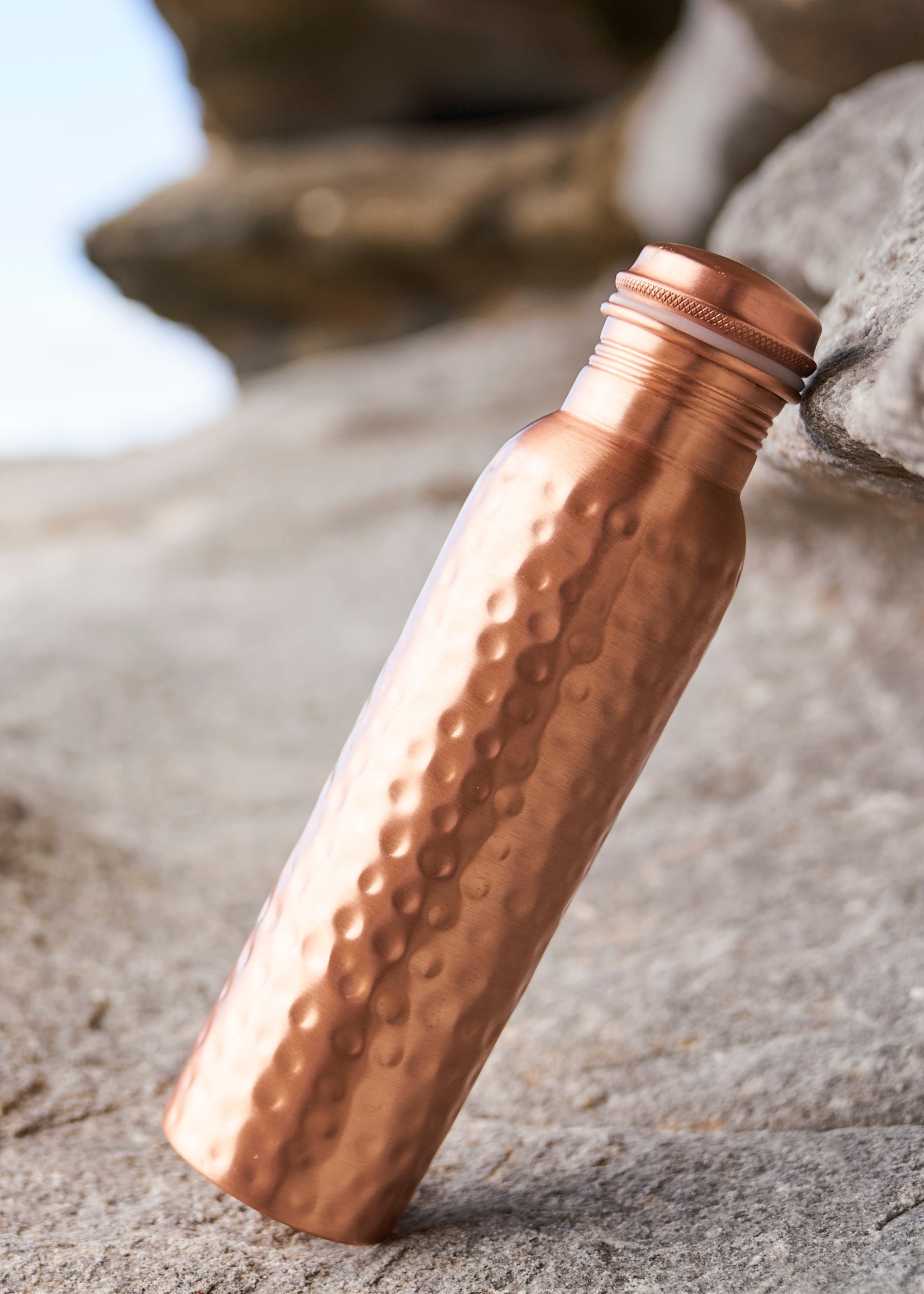 Nature's Tonic
Sip from the fountain of ancient Vedic wisdom to experience
a rejuvenating burst of health and wellbeing.
Ayurveda, a three-thousand-year-old medicinal practice has sustained generations through it's nature-based remedies that have a transformational impact on humans, offering healing and revitalisation of the body, mind and spirit.
 Water stored in a copper bottle is transformed to a
purifying elixir infused with antimicrobial, antioxidant, anti-inflammatory and
anti-carcinogenic properties.
Shop now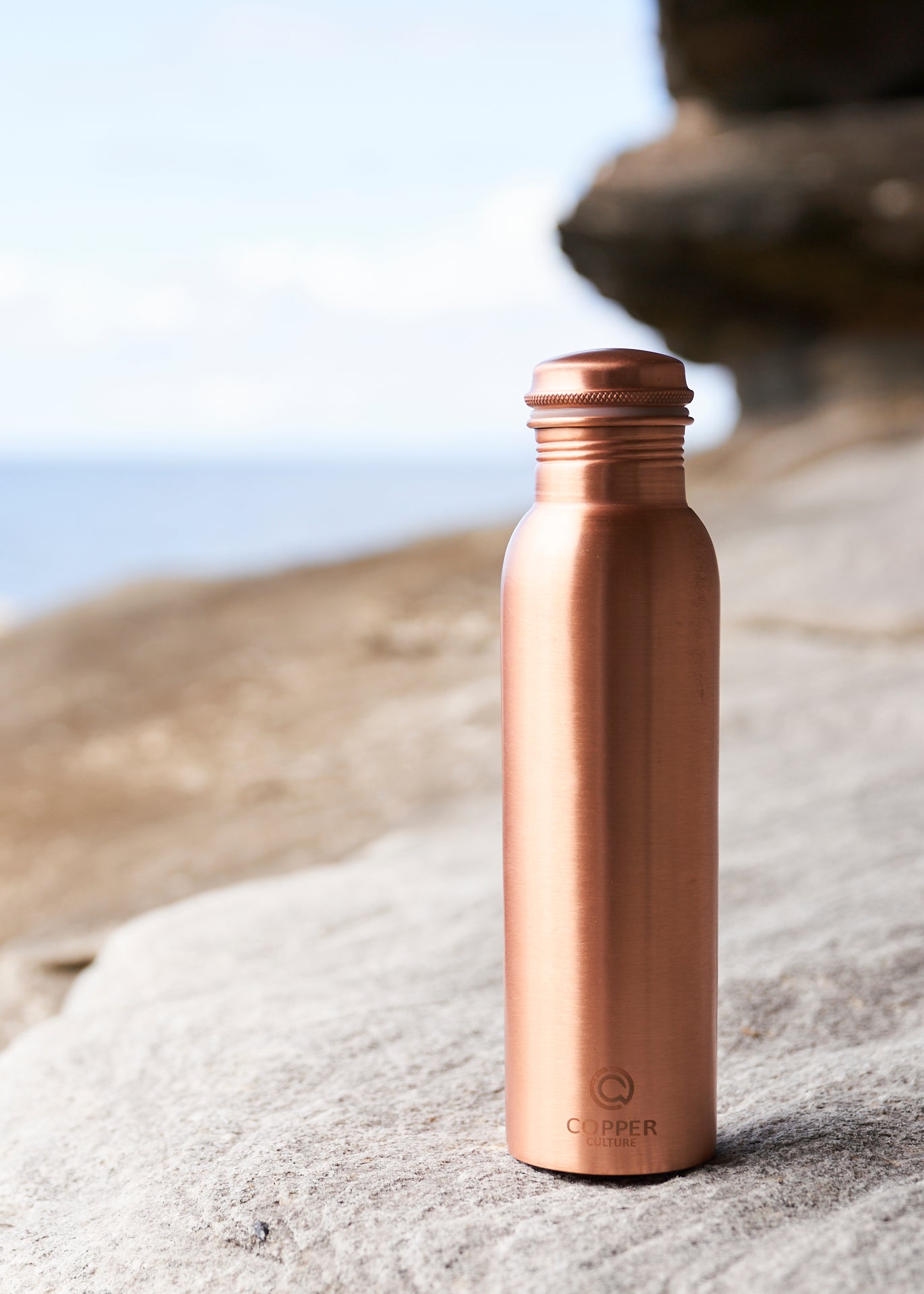 Health Benefits
Copper plays a key role in multiple essential body functions, such as the production of energy, connective tissues, and you brain's chemical messaging system. It's widely found in foods like shellfish, nuts, seeds, potatoes, whole grain products, dark chocolate, and organ meat.
Water drunk from a Copper bottle has many benefits :
- Antibacterial Effect : Water with bacteria such as Vibrio Cholerae, Shigella flexneri, Escherichia coli can cause diarrhea. Copper has a natural effect of killing this bacteria through it's contact killing.
- Arthritis and Inflamed Joints : Copper has anti-inflammatory properties which provide great relief to patients suffering from arthritis and rheumatoid arthritis. Copper also has bone-strengthening properties.
- Assists in Digestion : Ayurveda texts claim that drinking water from a Copper vessel detoxifies and cleanses the stomach. Copper also has properties that stimulate peristalsis, reducing the inflammation of the stomach lining to assist in better digestion.
Shop now
Frequently asked questions
What are the general health benefits of using a copper water bottle?

Using a copper water bottle enhances cardiovascular health, prevents waterborne diseases through antibacterial properties, supports the thyroid glands, and balances the three doshas in Ayurveda: Vata, Pitta, and Kapha contributing to overall well-being. Copper also aids digestion, boosts immunity by supporting white blood cells, and promotes detoxification by helping the body eliminate toxins.
What are the Ayurvedic health benefits of using a copper water bottle?

Ayurveda is a traditional Indian system of medicine based on the belief that health is all about balancing the three doshas — Vata, Pitta, and Kapha. Each person has a unique mix of these doshas, which can lead to health issues if they aren't balanced. Premium copper is considered vital to maintaining this balance. For example, it is believed:

Copper-infused water can stimulate digestion, helping your body break down food and absorb nutrients better.
Copper has antimicrobial properties, so drinking from a copper bottle can boost your immune system.
Copper aids the body's natural detoxification process to cleanse your body of harmful toxins.
What are some outstanding features of Copper Culture's copper water bottles?

Copper Culture's solid copper water bottles combine functionality, durability, and aesthetics. Key features include:

Leak-proof design: Leak-proof copper allows you to carry these bottles easily without fear of spills or mess.
Hand-crafted: Each premium quality bottle is manufactured with precision, offering a seamless and secure water storage solution. Being handmade also means every bottle is unique.
Joint-free: Our copper products have a joint-free construction, which means their sleek, uninterrupted design makes them visually appealing and contributes to their strength and durability.
Insulation: The copper drinking bottle is a vacuum-insulated bottle, which helps maintain the temperature of your beverage, hot or cold, which makes it ideal for various activities, including gym, fitness yoga, or outdoor adventures.
Ethically sourced: We are committed to ethical sourcing. The copper used in our copper vessels is responsibly mined and processed. 
What size copper water bottles do you sell?
Can I use my copper water bottle for other liquids as well?

You sure can! While copper water bottles are primarily designed to store water, they can store other beverages. However, carbonated or acidic drinks are not recommended as they may react with the copper and impact the beverage's taste.
Are Copper Culture's products made from pure copper?

100% yes! Our hand-crafted water bottles are made from pure copper, which is 100% quality and lasts forever. Don't believe us? Grab a magnet and hold it up to your copper drink bottle. Copper and magnets repel.
Are copper water bottles good for the environment?

They sure are. Premium quality pure copper water bottles reduce plastic waste as an eco-friendly alternative to single-use plastic bottles. These bottles are reusable, and because they're handmade from a natural material, their manufacture doesn't release any harmful substances into the environment.
Are Copper Culture's copper products quality and safety certified?

Yes, all copper products from Copper Culture are produced in compliance with stringent quality standards. They undergo rigorous testing to ensure safety and meet all necessary regulatory requirements.
What payment options are available with Copper Culture?

You can purchase your copper water bottle 950ml with shopPay, which allows us to accept all major credit card payments, including American Express, Apple Pay, Google Pay, Union Pay, PayPal, Visa, Mastercard, plus more. This allows for a smooth and hassle-free checkout process when purchasing our products online.
Are Copper Culture's copper products a good gift option?

Absolutely! With their premium quality, elegant design, and health benefits, Copper Culture's copper water bottles make the perfect gift. You can choose from plain pure copper bottles or hammered copper water bottles. Whether it's a birthday, anniversary, or corporate gift, these bottles will impress.
Artisan crafted copper bottles ethically sourced from the heartland of the Vedic tradition.
Locally Stocked

Products are shipped out to you within one business day, anywhere in Australia

Nature's Friend

By purchasing a copper bottle you have made a concious choice to preserve our beautiful planet! Copper water bottles have no expiry date and can last for a lifetime of hydration!

100% Pure Copper

Grab a magnet, put it up against the bottle and see for yourself. Copper & magnets aren't friends.

200% Money-back Guarantee

Don't like your bottle? We won't hold it against you.

Reach out to us and we'll organise for you to have your money back.

Learn More